latest news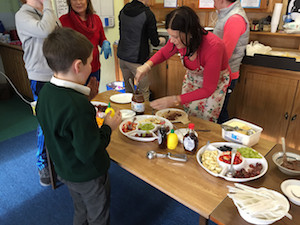 Pancake Tuesday in Scartaglen
We had a wonderful treat on Pancake Tuesday as every child in the school had some delicious pancakes with a huge selection of toppings including nutella, maple syrup, ice-cream, lemon juice, and lots of fresh fruit! It was a brilliant day and all money raised went to the Ronald McDonald House Charity. A massive thank you to all the parents who helped organise this great event and worked really hard all day making these tasty treats!
View Photos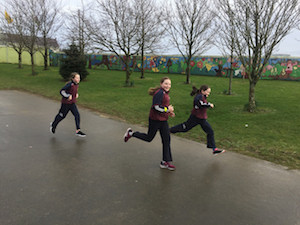 Scartaglen N.S. Marathon
There was great excitement this week as we finished our school marathon. Every child in the school has been taking part. They ran a total of 42km!! We had to run around the school each day on a track which was 225m long. It took us six weeks to complete the full marathon. Each child received a certificate and we even had a visit from the newspaper!
View Photos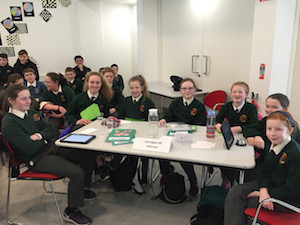 Schools Debating Competition
Well done to the school debating team who took part in the Kerry Schools Debating Competition in Tralee Education Centre recently. The topic of the debate was: Ireland is the best country in the world to live. Scartaglen N.S. were proposing the motion. It was an exciting debate and a great experience for the entire class. Thanks to Mrs. O' Mahony, Ms. O' Connor and Mr. Moroney for all their help preparing for the debate.
View Photos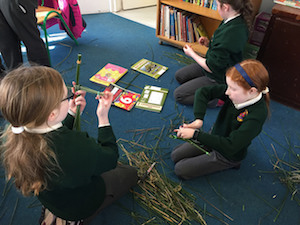 Making Crosses for St. Brigid's Day
The boys and girls in 3rd, 4th, 5th and 6th Classes were very busy making crosses from reeds on the 1st February for St. Brigid's Day. It was great fun and we all helped each other to make the crosses. There was quite a mess in the rooms but we all helped with the cleaning up as well!!
View Photos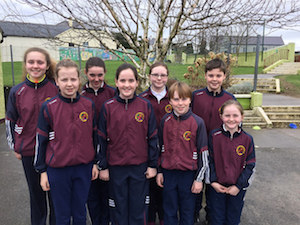 Credit Union Quiz Teams 2018
Well done to our two quiz teams that represented Scartaglen N.S. at the Credit Union Quiz in the Brandon Hotel, Tralee. The Junior Quiz team was made up of students from 3rd and 5th Class: Niamh O' Donnell, Ryan Walsh-Murphy, Charlie O' Keeffe and Mollie Mahony. The Senior Quiz team was made up of students from 6th Class: Muireann Walsh, Orlaith Buckley, Cillian Reidy and Muireann Rahilly. There were 27 schools represented with 53 teams taking part. They had a great day and enjoyed the quiz. Well done all involved!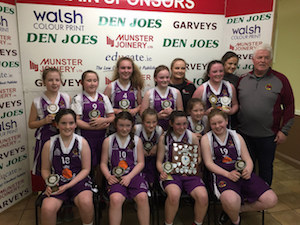 Christmas Basketball Blitz 2017
We were delighted to have five teams taking part in the Christmas Blitz this year in Castleisland. We had two senior teams and three junior teams taking part. All the boys and girls played really well with the Senior Girls and Junior Boys Teams winning their competitions. The Boys beat Curranes in the final and the Senior Girls overcame Nohoval in a close match. Congratulations to both teams! A huge thank you to Mossie, Ciara and Ella Kerin for all their coaching and to Ms. O' Connor for her coaching in school.
View Photos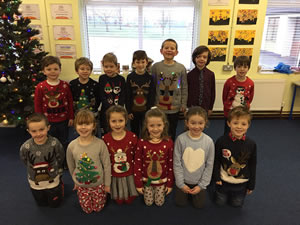 Christmas Jumpers!!

All of the boys and girls had great fun wearing their Christmas jumpers to school on the day of the Christmas holidays. Everybody was in the festive spirit and looking forward to Santa Claus coming!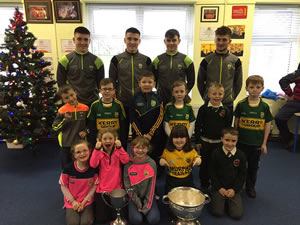 Tommy Markham Cup

We were delighted to have the Tommy Markham Cup in Scartaglen N.S. recently. Kerry players Sé Walsh, Sean O' Connell, Eddie and Sean Horan visited each of the classrooms with the cup. Thanks to everyone who helped organise this great occasion!
View Photos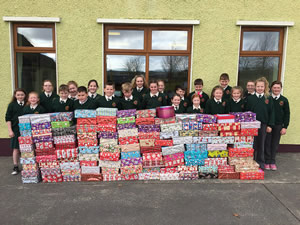 Christmas Shoebox Appeal 2017

Scartaglen N.S. took part in the Christmas Shoebox Appeal organised by Team Hope. We were delighted with the huge response and generosity. 113 Christmas shoeboxes were packed with a wonderful variety of goodies that will be sent to children from very poor countries around the world. There was great excitement when all of the boxes were loaded into Mr. Moroney's car to be taken away to the local depot. A big thank you to all who supported this very worthy cause! View Photos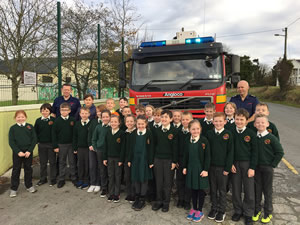 Fire Brigade visit 3rd and 4th Class

3rd and 4th Class had a visit from Tony and TJ from the Fire Brigade recently. They learned all about fire safety at home. It was very interesting. They even got to have a look at the fire truck and hear the siren!View Photos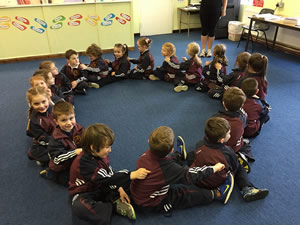 Relax Kids

The boys and girls in Junior/Senior Infants and 1st Class are taking part in Relax Kids. Relax Kids is a mindfulness and relaxation programme for small children. They are really enjoying the experience. Thanks to the Parents Council for organising and funding this worthwhile initiative.View Photos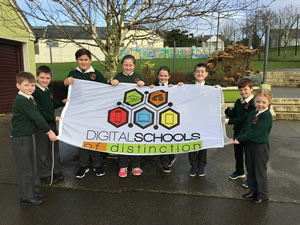 Digital School of Distinction Award

Scartaglen National School were delighted to hear that we have been recognised as a Digital School of Distinction. The programme is supported by the Department of Education as well as Microsoft and HP. It recognises excellence in the use of technology in Primary Schools. Only 14 schools in the whole of County Kerry have received the award so we were very proud that the work being done in our school is being acknowledged with this national award. Well done to all the staff, pupils and parents who have helped us to achieve this award.View Photos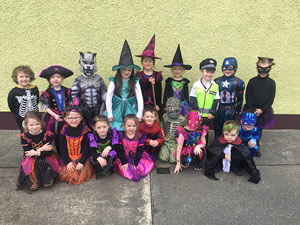 Halloween in Scartaglen NS

We were very impressed with the wonderful costumes in Junior and Senior Infants. They were very scary! 5th and 6th Class carved a pumpkin. We all like decorating our classrooms with Halloween decorations.View Photos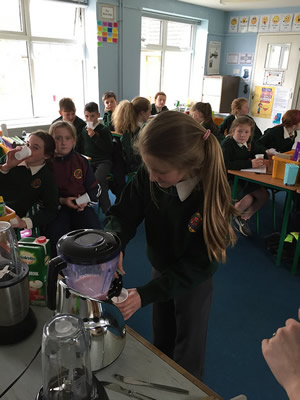 Fresh Fruit Smoothies

The boys and girls in 5th and 6th class had great fun making up their very own smoothie recipes recently. We used fresh fruit and frozen yoghurt to create a selection of tasty treats. Many of the boys and girls even brought their own fruit from home. We got to taste each of the smoothies and tried out various combinations including bananas, strawberries, blueberries, apples, mango, kiwi, pineapple and orange. Many of us even tasted fruits we had never tasted before!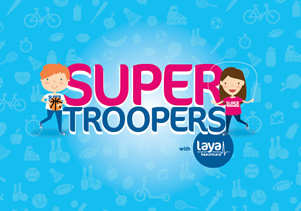 Super Troopers Programme

Scartaglen N.S. is participating in Super Troopers again this year. Super Troopers is a 'health homework' programme. As part of their homework pupils will have a short daily activity to complete. Each child has received a journal and wall chart to help track their activities over the next few weeks/months. They can also track sports/activities they are already doing. All of the family are encouraged to get involved and we look forward to an active Autumn in Scartaglen!!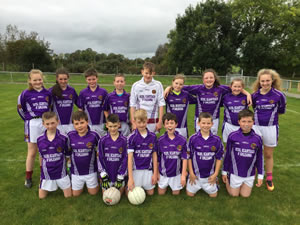 Cumann na mBunscol Football

Well done to all the boys and girls who played for the school football team in Cordal GAA field recently. The team played three matches against Nohoval, Cordal and Currow. They played really well and were unlucky not to qualify for the next round. A huge thanks to Ms. O' Connor for all her coaching in the lead up to the matches.View Photo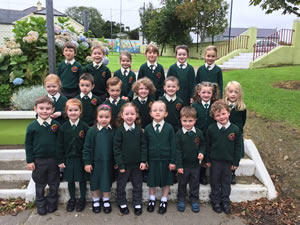 Junior Infant Class of 2017

We are delighted to welcome our new Junior Infants to Scartaglen National School. We are sure they will be very happy in our school!View Photo


news from the classrooms
Junior/Senior Infants (Mrs. Doody):
We have been learning all about the Three Little Pigs for the past fortnight in Aistear, building our own houses. Next week, we will be learning all about Pirates, our pirate names and how to make treasure maps. Junior Infants are nearly finished learning all of their sounds in Jolly Phonics. We are looking forward to reading lots of books from now on!

1st/2nd Class (Mrs. O'Sullivan):
This week we worked really hard creating a giant map of Scartaglen Village. We worked brilliantly as a team and it turned out great. We also created a very funny play from our English reader, it was called "Put a Bell on Belinda". Everybody took part and it was great fun!

3rd/4th Class (Mr. Johnson):
We are currently making piggy banks for art. We started them last week and hope to finish them soon. We wrote and acted out a roleplay based on a story from our English reader. It was very funny. We are looking forward to St. Brigid's Day when we will make crosses.

5th/6th Class (Mr. Moroney):
We have been learning all about World War I for History. We read the novel War Horse in English. It was a great book, we also watch the movie and compared the novel to the film. We are working on a World War I project! We have also been working on our Junior Entrepreneur Project. Our company is called Doggie Business and we will be selling a doggy pampering package! Some of the boys and girls in our class are taking part in the Credit Union quiz, best of luck to both teams!!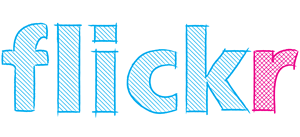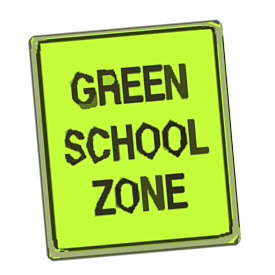 News Archive